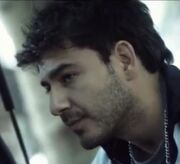 Anthony was in San Francisco Airport along with Kenneth Lubahn, Lee and Julie Martin, Simona and Francesca Rossi, and Rob Boston.  He trusted Kenneth's assertion that The Disaster was caused by a computer virus in the HPlus network.  He later traveled with the group as far as Northern California, but stayed with Julie and Brian Martin.
Ad blocker interference detected!
Wikia is a free-to-use site that makes money from advertising. We have a modified experience for viewers using ad blockers

Wikia is not accessible if you've made further modifications. Remove the custom ad blocker rule(s) and the page will load as expected.