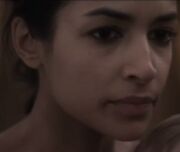 A young Indian woman who chose to serve as the surrogate mother for the unborn child of
Connel
and
Breanna Sheehan
.  She has at least one sister,
Ritu
, and a mother who survived
The Disaster
because they were not implanted, but her father and brother both died.
Leena and Connel established a connection quickly after meeting, and a long-distance extramarital affair developed between the two of them, unknown to Breanna.  They communicated without Breeanna's knowledge, exchanged erotic fantasy videos and memories of their childhood via their HPlus Implants.
Leena successfully carried the Sheehans' child to term and delivered a baby boy after it happened.  She named the boy Vadish, after an old Hindu god.  An old research and development team from the Lord Pearce Wachter company including Dr. Gurveer had displayed an interest in her child even before he was conceived.  Dr. Gurveer later came to collect Vadish under the premise of reuniting him with his biological parents, but Leena added the condition that he take her as well.  Dr. Gurveer abandoned her in Turkey, taking Vadish with him.
Ad blocker interference detected!
Wikia is a free-to-use site that makes money from advertising. We have a modified experience for viewers using ad blockers

Wikia is not accessible if you've made further modifications. Remove the custom ad blocker rule(s) and the page will load as expected.